We do not recommend inexperienced technicians install these units, that said if you get stuck or are not sure about something STOP IMMEDIATELY AND CONTACT US! Ignoring things or getting something wrong during the installation can be very costly in the end and is not covered under our warranty – when in doubt ASK!
- ON ALL UNITS THAT HAVE THE UPPER FLOATER ATTACHED VIA BOLTS TO THE PRESSURE PLATE ASSEMBLY - DO NOT - FOR ANY REASON - REMOVE THE BOLTS ATTACHING THE UPPER FLOATER PLATE TO THE PRESSURE PLATE. DOING SO WILL RENDER THE CLUTCH USELESS AND WILL CAUSE A SEVERE IMBALANCE, IF YOU'VE DONE THIS DO NOT ATTEMPT TO USE THE CLUTCH, CONTACT US IMMEDIATELY. THE HARDWARE IS ONE-TIME USE AND CAN CAUSE SIGNIFICANT DAMAGES IF YOU ATTEMPT TO RESUSE THEM!!!!!!!!!
- DO NOT USE ARP hardware with our multi-disc units, using ARP flywheel bolts with this unit will cause immediate damage and failure as it will interfere with the lower disc. We've included flywheel bolts with your clutch, there is no need to use anything else.
- Use Red Loctite on the six (6) pressure plate bolts and flywheel bolts.
- DO NOT LUBRICATE THE PILOT BEARING OR INPUT SHAFT
- YOU ABSOLUTELY MUST MEASURE YOUR SETUP TO ENSURE THINGS ARE AS THEY SHOULD BE. There are multiple tolerances at play (bell housing, transmission case, clutch assembly, crankshaft flange, and engine block) that can be off one way or another, by measuring you ensure that your entire setup, not just the clutch, is correct and within tolerance. IF YOU FAIL TO DO THIS YOU CAN/WILL DAMAGE THE CLUTCH SETUP WHICH WILL NOT BE COVERED UNDER OUR WARRANTY UNDER ANY CIRCUMSTANCES. See our FAQ page for information on how to measure and what tolerances you should see (under "Does my clutch need a shim").
- If you're installing this in a swap application and have an adjustable master cylinder, you must follow the directions in this link to finalize your installation - Swap Application Master Cylinder Adjustment
- Quick Time/aftermarket bellhousings will almost always need some sort of a shim – their tolerances are quite a bit different than OEM and vary from part to part.
- Never attempt to measure the setup with a tape measure, you must always use a set of calipers – whether they are digital or not does not matter, as long as you can read them. If you contact us with measurements, they must be to the .001" or we cannot help you.
- All Monster Clutch Co. multi-disc units are put through multiple tests prior to leaving our facility. We go through great lengths to ensure you're getting a clutch that is 100% ready to install when it arrives. In short, when it leaves here it is a perfectly working/functioning clutch – if something is amiss during installation or break in it is your (installer/consumer) responsibility to contact us prior to continued installation/usage. Any damages that occur from an improperly installed clutch are not covered under our warranty.
- There are some units that will include a billet aluminum slave cylinder spacer, this MUST be used in conjunction with your clutch! Failure to use this, and measure the setup to ensure proper dimensions, will cause the unit to not release and can cause damage not covered under our warranty.
- Make sure that all friction mating surfaces are clean. Spray brake cleaner on a rag and wipe the surfaces down to get all of the packing oils, etc. off of the surfaces. This is important as fluid contamination is the #1 reason for chatter as well as friction failure and is NOT covered under our warranty. Do not spray any frictions themselves with cleaning agents as this will destroy the frictions.
TRIPLE DISC INSTRUCTIONS
These clutches come preassembled. Make sure that you reassemble the unit as you pulled it apart to ensure proper operation. We recommend that you mark things as you disassemble and clean them with a permanent marker (or take images with your cell phone), this will help things go back together smoothly and keep you from forgetting if you must walk away from your project.
DISASSEMBLY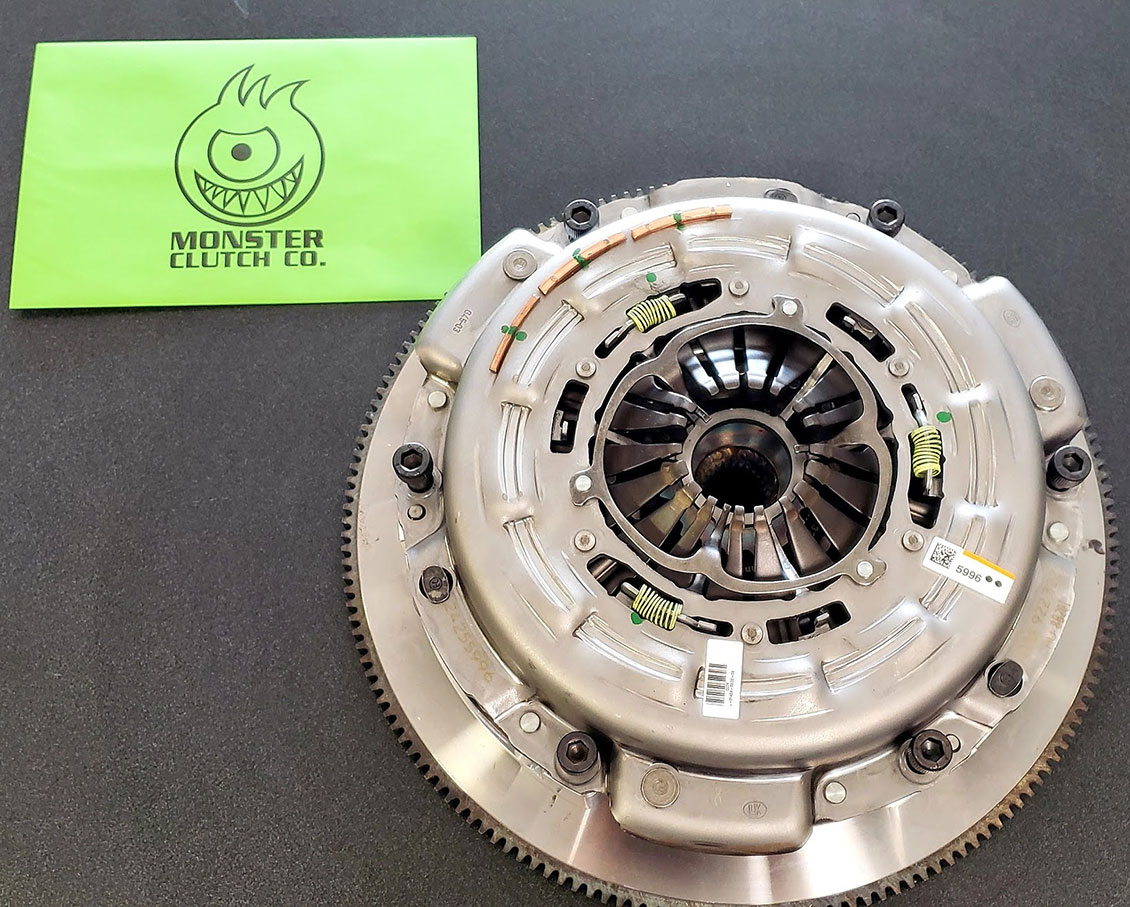 Remove the 6 pressure plate bolts and remove the pressure plate assembly.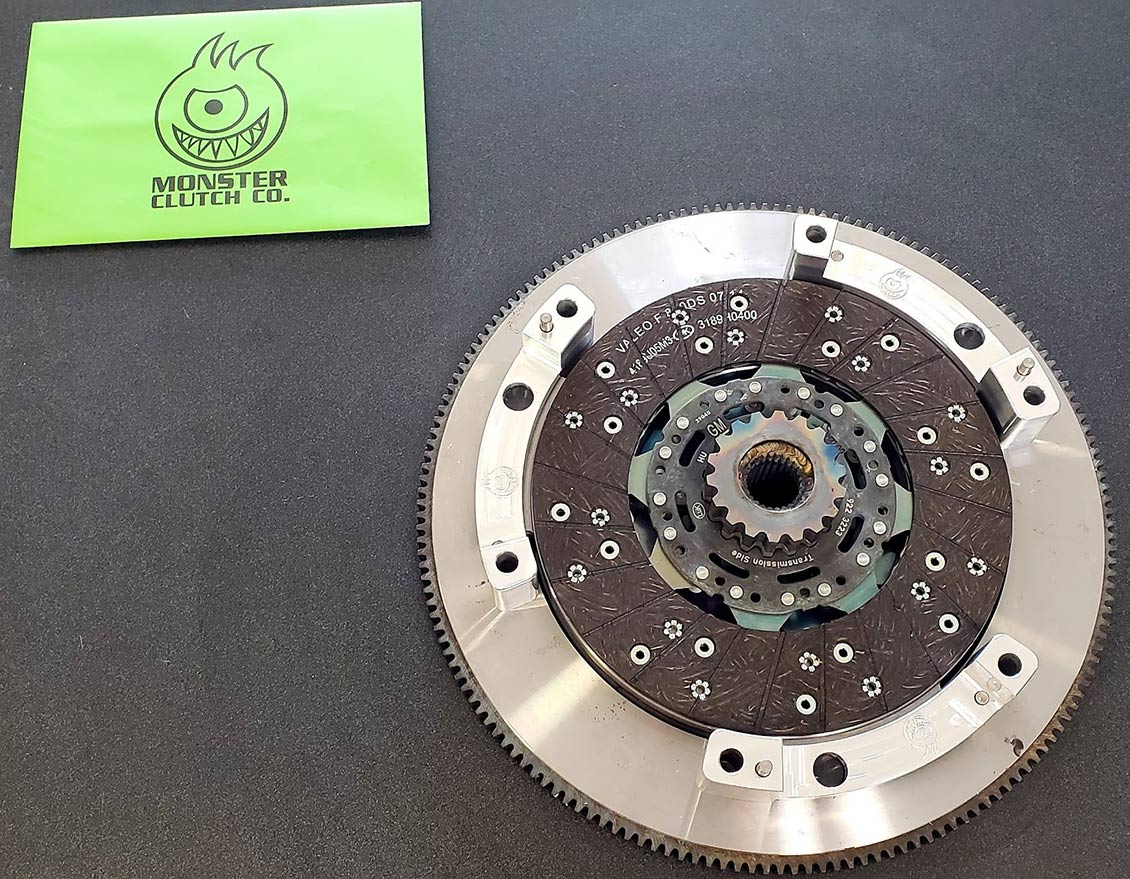 Remove the inner (center) disc – make sure you reassemble this disc with the "transmission side" facing the correct way.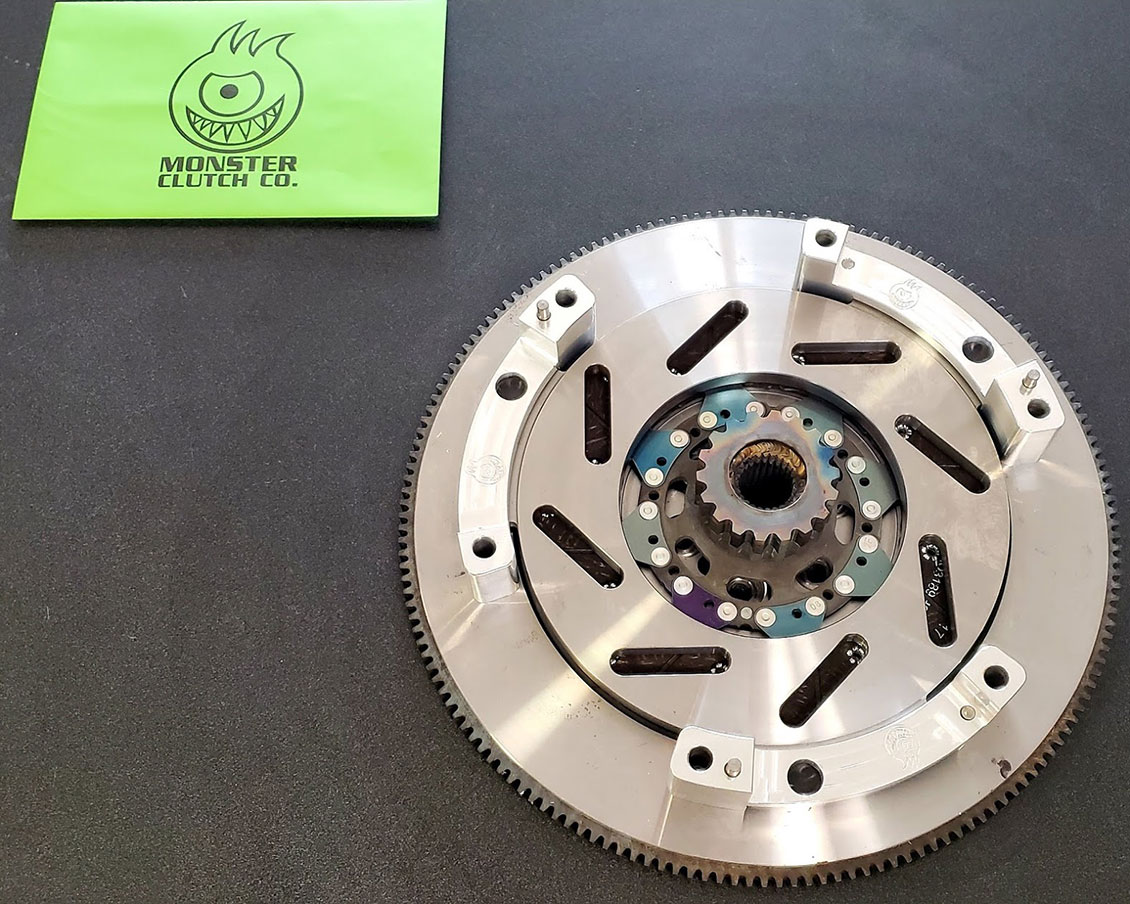 There are three aluminum stands that are pinned in two places that you must remove in order to remove the floater plate. You MUST mark each of these stands and place them back exactly how they are. You can install these upside down, doing this will ruin the clutch and be very costly.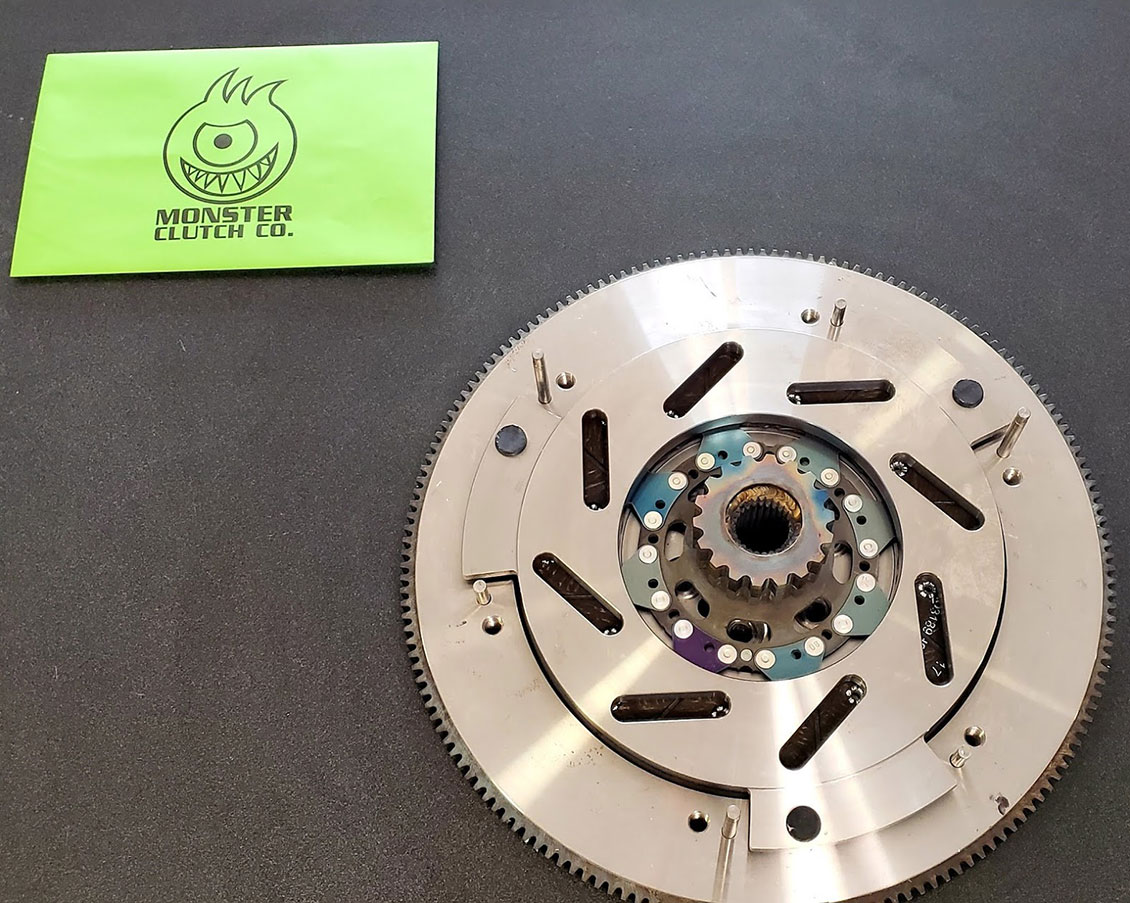 Once the stands are removed you can remove the floater plate. The same goes for this, you must mark the floater and reassemble this exactly how it is taken off.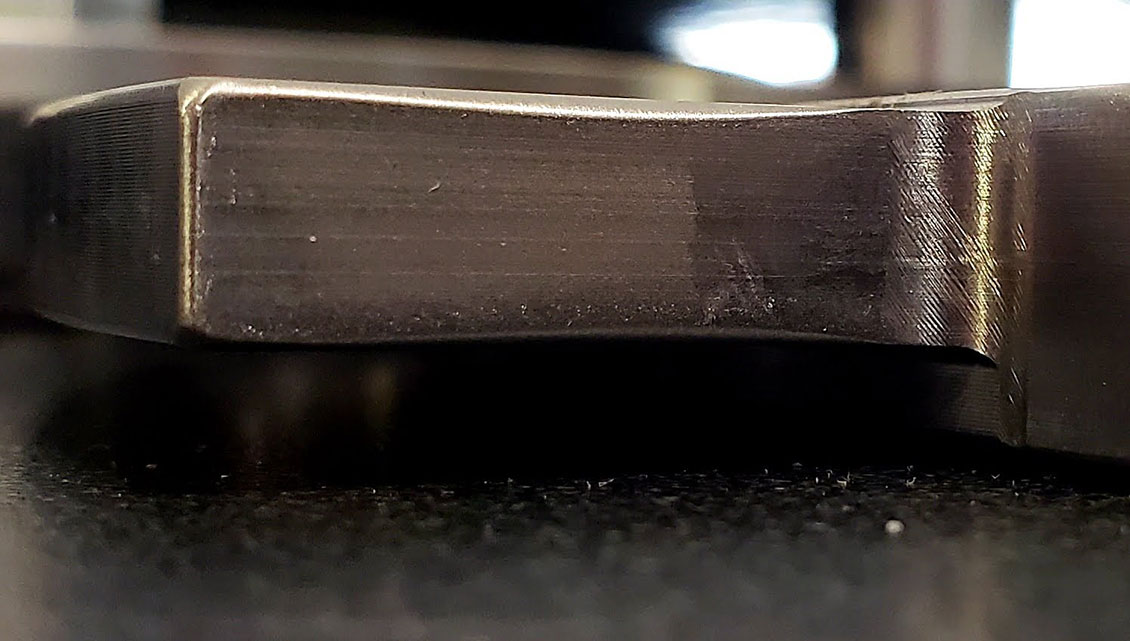 **IMPORTANT NOTE** The floater plate has a "large step" on the three ears that goes towards the flywheel, if you get this backward you will ruin the pressure plate – make sure the large step goes towards the flywheel (part facing down in the image above) and the short step goes towards the transmission.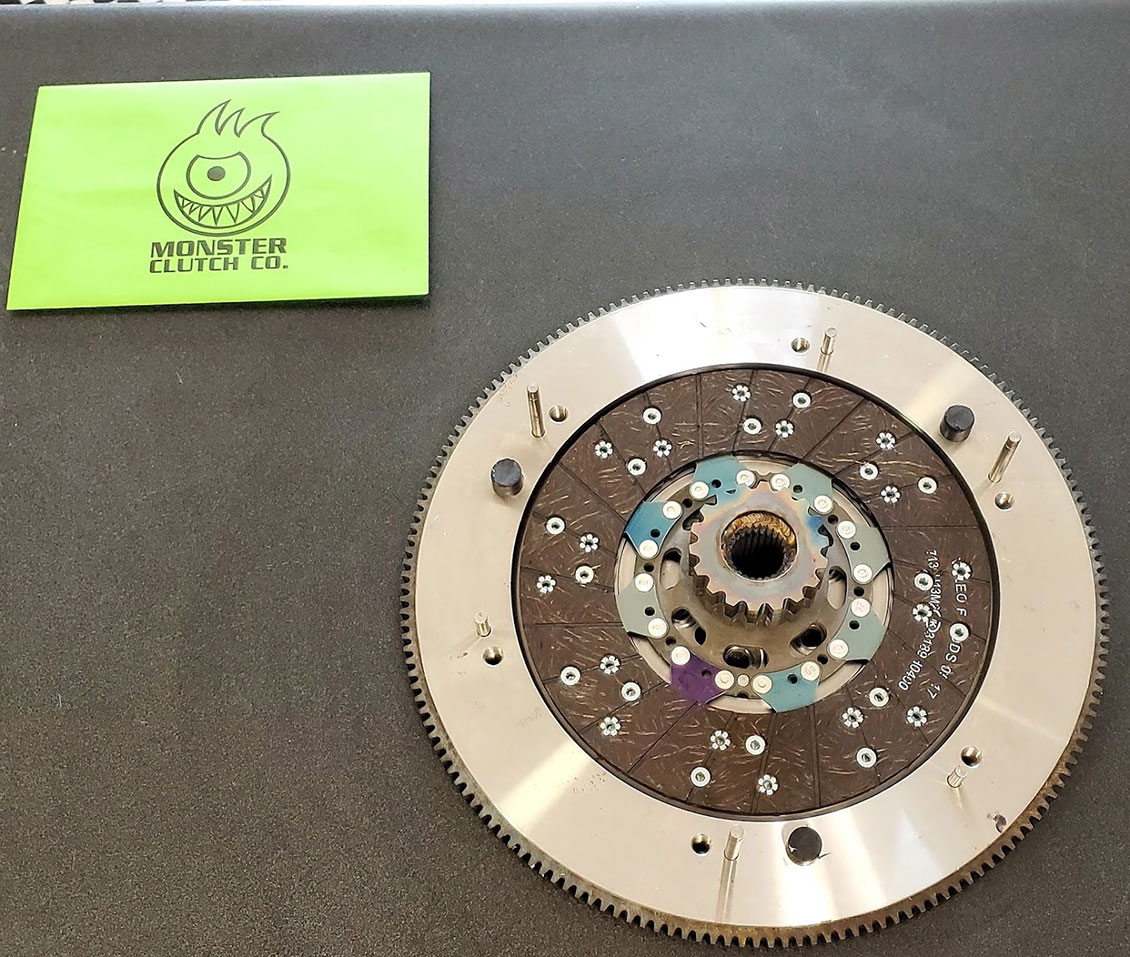 Next up is to remove the lower disc, this will only go back one way – it's near impossible to get this wrong.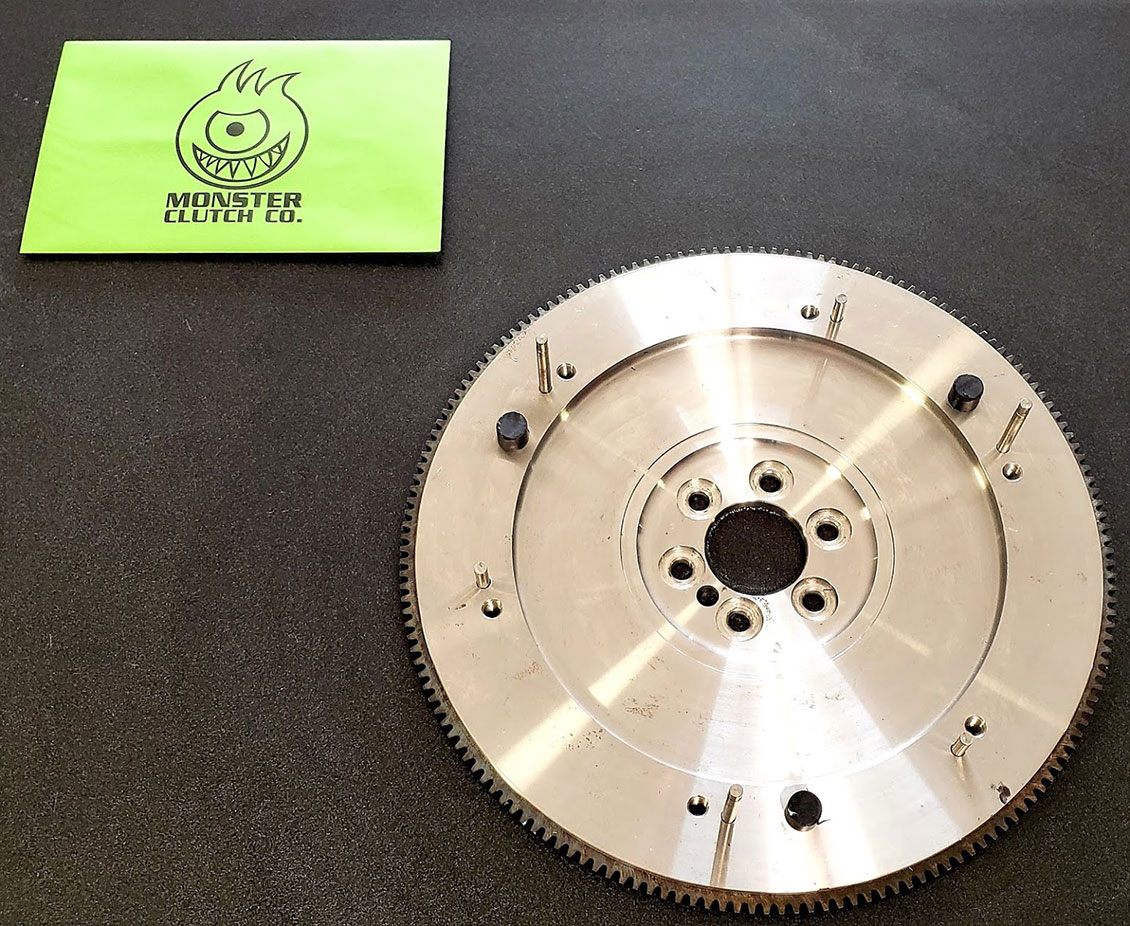 At this point, you're ready to install the clutch on the back of your engine! You want to reassemble the clutch exactly like you took it apart, we can't stress this enough – beyond that, it's straightforward from here.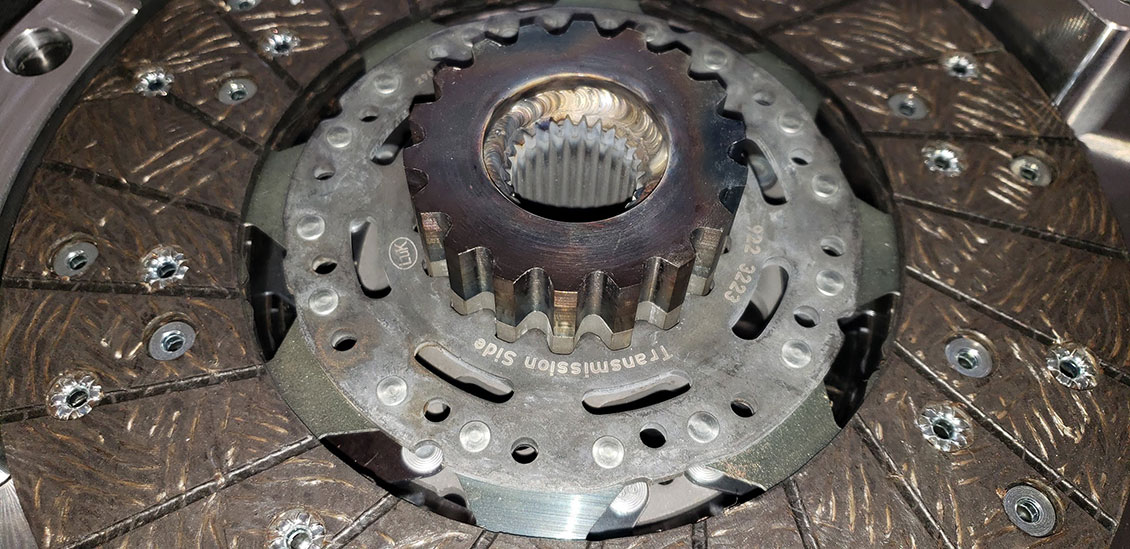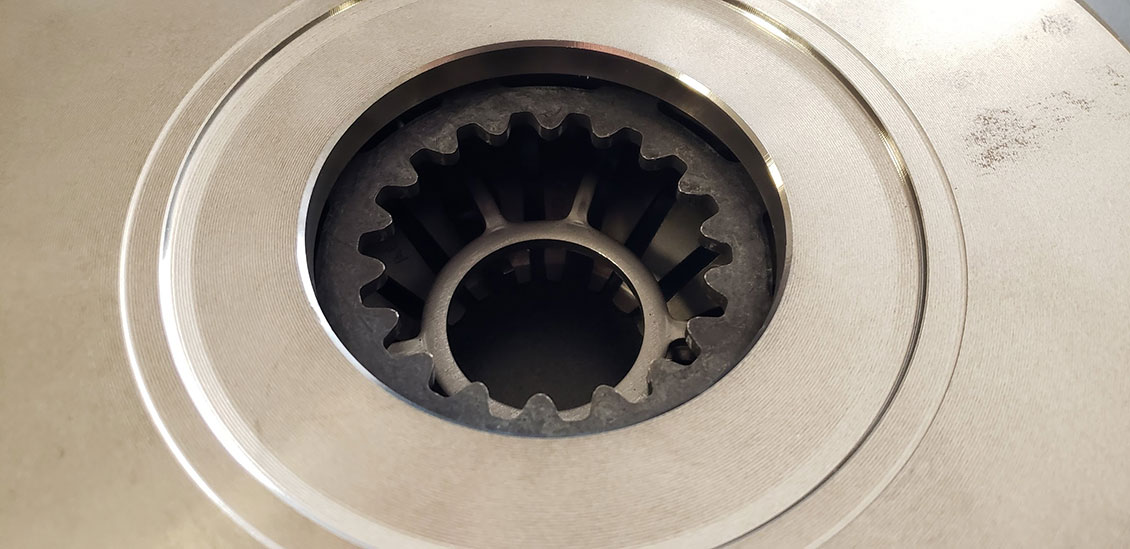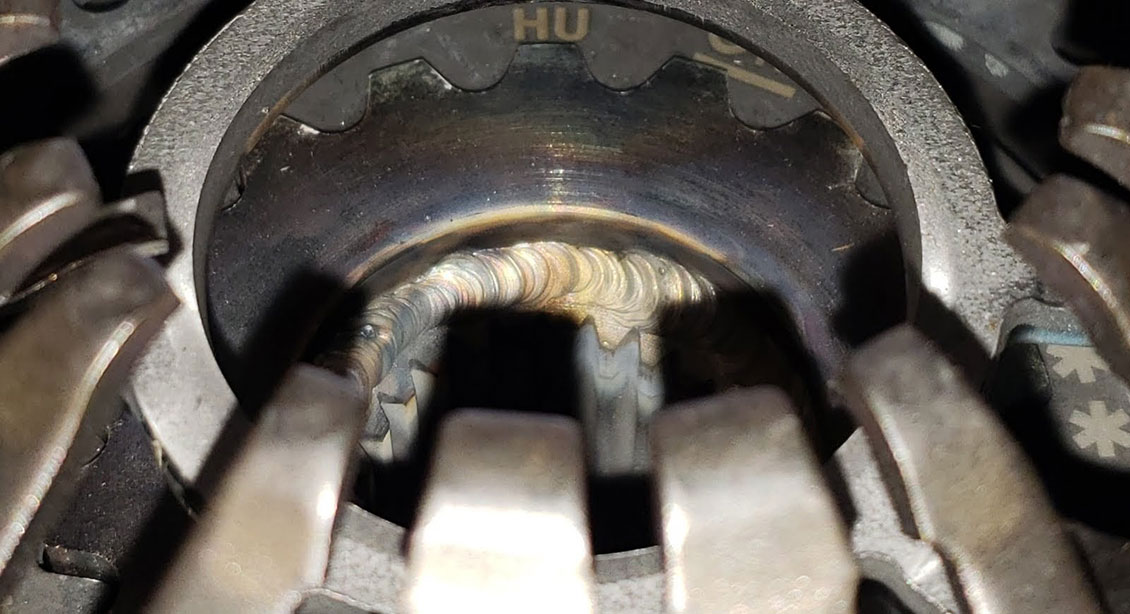 **IMPORTANT NOTE** When reinstalling the clutch make certain that the main splined disc aligns properly into the upper disc (this applies to the LT1-S triples; the SC, R, and RR triple discs align individually and don't require splining through other discs). Above is the picture of the splined hub and the upper splined disc, the final image shows them aligned properly. Make sure that you align these BEFORE torquing the pressure plate to the flywheel, failure to do this will bend the lower/main disc and the upper disc causing release issues.
Flywheel bolts are torqued in three phases, the torque specs are 15-37-74 ft/lbs of torque. The torque sequence is 1-4-6-2-5-3 for 6-bolt flywheels, 1-5-7-3-8-4-6-2 for 8-bolt flywheels, and 1-5-8-3-6-2-7-4-9 for 9-bolt flywheel.
Pressure plate bolts are torqued in three phases, the torque specs are 20-40-52 ft/lbs of torque. The torque sequence is 1-4-6-2-5-3
IF YOUR CAR STILL HAS A FACTORY CLUTCH PEDAL-ASSIST SPRING REMOVE IT BEFORE DRIVING, THIS WILL ALLOW A MORE LINEAR PEDAL FEEL AND WILL IMPROVE THE DRIVING CHARACTERISTICS OF THE UNIT.